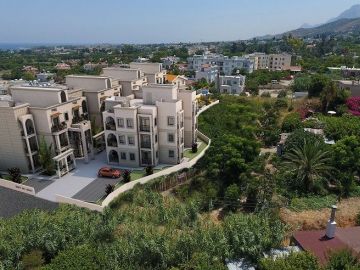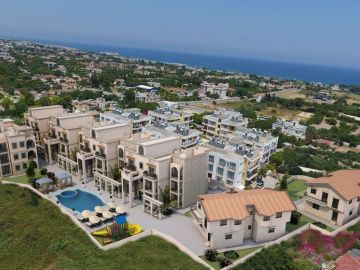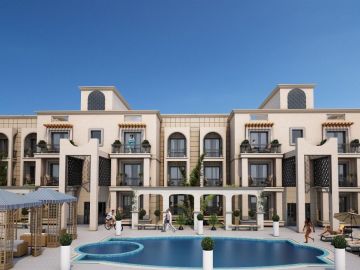 This is a brand new complex of 5 blocks of 30 flats, located in the town of Lapta (Lapithos) in Kyrenia region. Lapta is one of the most attractive towns in Northern Cyprus. It is an ideal town for history lovers and nature lovers alike. There is a lot to explore in and around the town. The complex is at a peaceful spot within walking distance to the stunning Lapta Coastal Walkway, cafes, bars and restaurants. It is 15 minutes from the Kyrenia city centre by car, and 1 hour drive from Ercan airport, and about 80 minutes from Larnaca airport.

The complex has a communal swimming pool, a small playground, and closed parking facility. Infrastructure for AC, satellite and wireless Internet have all been set up.

The flats are bright and practically designed, and they all have beautiful views. The following prices also include the 2,000 GBP infrastructure fees. VAT and title transfer fees are to be paid upon the transfer of title deeds (EXCHANGE TITLE). The expected date for this is late summer 2019.

The following flats are at the best locations and available directly from the owner.

2+1 with pool and mountain views and additional veranda: 62,000 GBP
This flat is on the ground floor. It is just metres away from the pool. 80 m2 + 17m2 veranda at the back.

2+1 with mountain views: 64,000 GBP
This flat is on the first floor. It has panoramic mountain views. 80 m2

2+1 with mountain and sea views: 62,000 GBP
This flat is on the first floor. It has mountain views from the living room and the kitchen, and sea views from the bedrooms. 80 m2

Please contact us for further details including payment plan and advice on seeking legal support if need be.